Archive for the Category »Classes & Workshops «
For more information or to book your place visit http://scrapkits.co.za/hcps.html
So don't tell anyone, but today I bunked work and went to a "Retro Humour Collage Class" with Shannon from Fat Tuesday. I would like to call it research for Jamtin, surrounding myself with creative people, but let's be honest; it really was just a great excuse for what was a stunning morning!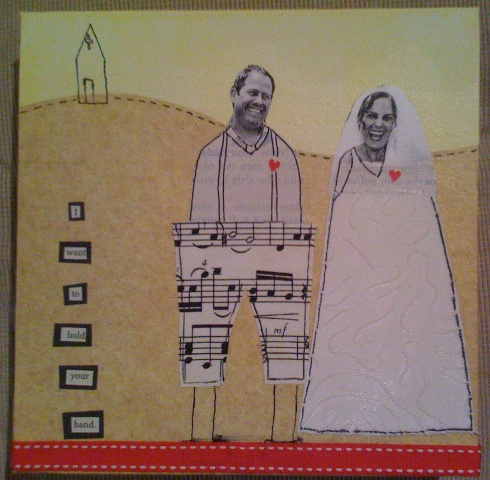 I must admit that I was a little nervous to begin with – nothing to do with anyone else, but rather I suppose the expectation of what you are there to achieve, the 'where on earth to start' feeling, and maybe a little bit of awe when you start viewing the work of the other people there – with many collages on display that are difficult to believe that they are first attempts.
I was soon put to ease, told to relax as it was 'just a piece of canvas' and reminded myself that I was there to enjoy the time out. I think that it can so often happen when you start off with creating something that the end product overwhelms you and stops your creativity – you are almost so scared of not doing it right that you don't want to start.
Anyway – Shannon first showed me a few techniques (and before I go any further, let me just mention that I had my very own one-on-one class this morning – full use of the studio, coffee and a, hmm, frutato or something like that – little cake with fruit inside which was just delicious from Vanille next door, plus I walked out with my first collage which I just love for the bargain price of R200!
Back to the lesson and the techniques –  first I learnt a few techniques for various textures for the background, the paints that are used, the embellishments, the paper and a whole lot more that is still sinking in! The techniques and ideas are taken from Claudine Hellmuth – a mixed media collage artist and whose website is an insane inspiration after my exposure to this art form this morning!
There was lots of painting, wiping, cutting, deciding which embellishments to use, and watching what the others in the room were doing. (Shannon holds a social morning on Tuesdays and Thursdays where you can go and for R50 you have use of the studio, the materials and most importantly you have the input from the other creatives there.)
So – long story short, but this picture is the end result of my morning…. My mind is already ticking as to what I'll be doing next.
So now not only do I have to finish my fabric covered box, still learn to crochet but I think I could get seriously get into the collaging!
I have a problem! And I doubt that I'm the only one with the same problem, but seriously – there are just too many things to do. I'm not talking about the admin, daytime work, ironing, the cleaning, the blah blah blah, – what I am talking about is the problem that there are just too many new things to try my hand at trying to make, and I really don't know where to start!
I've got my own list of things that need to be made and then after spending quite a bit of time scouring website looking for potential listers for Jamtin.co.za I just find so many new projects that are just too gorgeous. (Like this Collage Course, for example – run every Thursday morning at Fat Tuesday which are just so different and which gorgeous 'end products' are too stunning, and which happens to be JUST up the road from me!)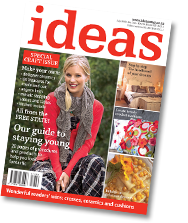 Then my Ideas Magazine arrives in the post the other day and that too is jammed full of crafting ideas – I just love the crochet project of a cushion with brightly coloured crocheted flowers and circles attached to it – now I just need some one to teach me to crochet. Watch this space! There is also a great project on embroidering and covering a fabric box – something I've been wanted to do for ages! I've decided this is the weekend for the fabric box (just because I'm not sure I can learn to crochet between now and Friday so the fabric box was the easier of the two for me!)
Wish me luck as I try and arrange my time and mind to fit in some crafting SOON.