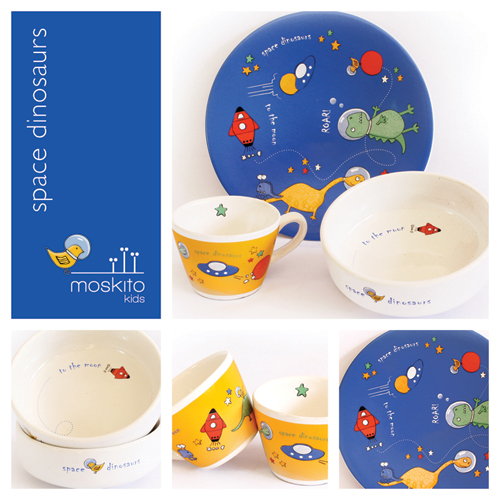 The moment I saw Moskito Kids's Facebook page, I knew I had to share both the product and the story behind the business with the Jamtin community, as I'm sure you'll agree that they are too gorgeous not to share.  I just love being able to bring such lovely, homegrown and local products to your inboxes and computer screens and hope you'll bring some of these tableware sets into your homes. Enjoy hearing what Lynette and Diana have to share about their business below, and feast your eyes out on their gorgeous kids tableware.
A bit about Lynette:
I grew up as a child with creativity in the family (from designers to authors). I decided to make art my career and have been involved with some form of art ever since. I am a Graphic Designer by trade, sporadically doing paintings/sketches on commission. My other significant attributes would include Mom to a beautiful blue-eyed boy, Wife to an amazing man and avid Tree Hugger.
Recently inspired by a renewed sense to develop my true passion, I cut down on the hours spent in the corporate world and started pursuing the more hands-on nature of the Fine Arts. My love for nature, children and all things artsy inspire my topics and I am fascinated with detail. Being a perfectionist, I believe the greatest masterpieces can be produced by simply attempting to copy the perfection of what God has already created. I hope my work communicates the infinite beauty our creator has given us to enjoy and thereby inspire people to look after our most precious resources, our children and our earth.
A bit about Diana:
I'm a Mother of 3, soon to be 4! I grew up in a large close-knit family and I'm one of five siblings. I loved being amongst the chaos and all the love that we shared. Life was never boring and I think the best gift I can give my children is their siblings. My family takes the centre stage in my life and I believe in making each day count. Children are a precious gift and as parents, we should not take anything for granted. It's always been a dream of mine to run my own business and when the opportunity came along, I grabbed it with both hands. I studied DTP and Multimedia. My career includes Web Designer, Executive Assistant, Office Manager and Account Manager. I've always wanted to marry my creativity with my organisational skills and Moskito Kids allows me to do this.
Moskito Kids: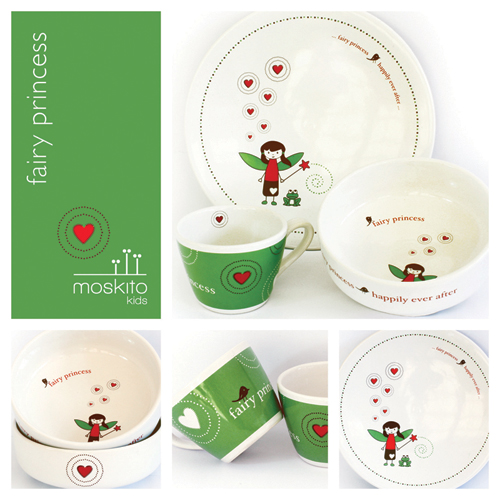 'Moskito Kids': The name was inspired by the quote "Anyone who thinks that they are too small to make a difference has never tried to fall asleep with a mosquito in the room." (Christie Todd Whitman). It is based on the concept of small things making a big impact and aims to encourage children, to believe in themselves and make a difference. It also symbolizes the brand's outlook, that every small effort towards sustainable living has an impact.
The inspiration behind Moskito Kids' products started when as a new mom, Lynette was suddenly invited to dozens of children's parties. Being an artist, a tree-hugger and having to buy gifts for a whole new genre, she would not settle for the normal sock-or-tie-type gifts. Lynette started exploring the childen's market for unique products that would delight little ones and get the approving nod from parents.
If you ask any mom to open their child's cupboard, you would most likely encounter an avalanche of plastic or mass-produced items from China. Due to local supplier efforts being depressed by cheaper, faster and mass-produced goods from the Chinese market, one is hard strung to find proudly South African children's products. We soon realised that this was something we were quite passionate about.
We started developing our first range, a children's tableware set. When researching our competition (from China) we found that most sets are made of toxin-rich materials like plastic or melamine and typically, they feature the latest animated fad. It has no regard for nature and lacks a unique artistic touch. Some products found in stores are cost effective and aesthetically pleasing but in most cases, the tableware sets are not functional or durable for use by the intended market, children.
We have used our research and experience in the market as Moms to create a bespoke children's product. By addressing the concerns of both the parents and children, it is visually pleasing and empowering for the child and safe and easy for Mothers. It is a unique product that is made locally from quality, non-toxic material and it's also functional, durable and eco-friendly.
With sustainability in mind, the product adds to the much-needed initiatives of supporting local suppliers. We have a passion for our country and its people. We believe that creating local and sustainable products will assist in developing our country and uncover the beauty our people have to offer.
Contact Information:
Website: www.moskitokids.co.za
Facebook: http://www.facebook.com/moskitokids
Email: lynette@moskitokids.co.za or diana@moskitokids.co.za
Phone: Diana – 082 451 0919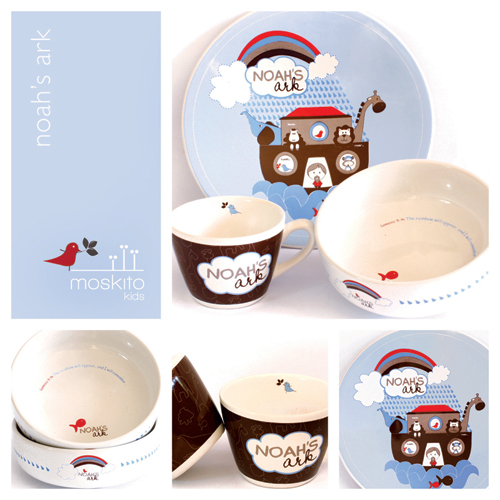 Business advice for fellow handmade businesses:
If you're passionate about something, follow through with it. It's not easy but if you believe in it and you work hard, you will start to reap the rewards. Don't give up! Stay true to yourself and don't budge on what you feel passionate about. Handmade art is part of our culture and the legacy we leave for our children. We have to cultivate individuality. Leaving the next generation with bland, mass-produced junk will produce mindless followers and not future leaders.